For Sama
Waad Al-Khateab, Edward Watts
Great Britain. 2019. 100 min
Journalist Waad al-Kateab spent five years documenting the atrocities inflicted by President Assad's regime upon civilians in Aleppo. A student of economics at Aleppo University when the 2011 war began, Waad took her camera to the streets and began documenting the devastation of the Syrian regime and its allies. At the same time she found love and became a mum, marrying Hamza (one of the 32 doctors who stayed in East Aleppo) and having her first child, Sama, while airstrikes bombarded the city.
In 2016 Waad met her co-director Edward Watts, and their film, For Sama, took off. "I got involved when these great people [Waad and Hamza] left Aleppo," Watts tells me when I sat down with the filmmakers just a few hours before the UK premiere of their film at this year's Sheffield Doc/Fest. "No one knew about the incredible footage that she'd created while she was there. Initially it was in the region of 300 hours of footage that she managed to get out of Aleppo. And then subsequently there were more hard drives, more footage. It was somewhere between 300-500 hours, which we edited down to 94 minutes within two years."
INTERVIEW TO THE DIRECTORS
WAAD AL KATEAB – EDWARD WATTS
In 2009, 18-year-old Al-Kateab moved to Aleppo to study economics at the University of Aleppo. In 2011, when the Syrian Civil War broke out, she began reporting on the war for Channel 4 News in the United Kingdom. She elected to stay and document her life over five years in Aleppo as she falls in love with Hamza – her friend-turned-husband, a doctor – and gives birth to their first daughter, Sama ("Sky") in 2015, which became the basis of For Sama. For covering the Siege of Aleppo, she won an International Emmy for her reporting, the first Syrian to do so. For Sama, directed with Edward Watts, won the Prix L'Œil d'or for best documentary at the 2019 Cannes Film Festival, receiving a six-minute standing ovation. At the 73rd British Academy Film Awards, For Sama became the most nominated documentary in the history of the British Academy Film Awards with four nominations, winning for Best Documentary.
After fleeing Aleppo in December 2016, Al-Kateab, her husband, and their two daughters reside in the United Kingdom.
POSTER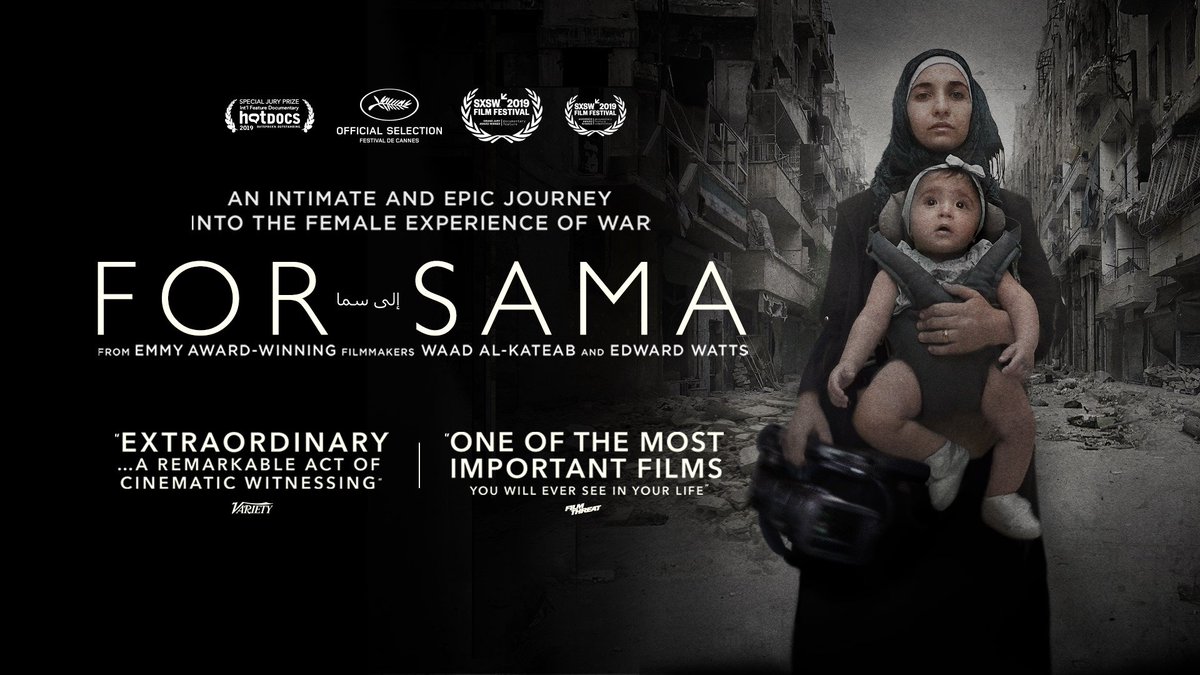 CONTACT
Surtsey Films : surtsey.programacion@gmail.com