Amor, Avenidas Novas
Duarte Coimbra
Portugal. 2018. 20 min
Lisbon, 2017. Manel is twenty years old, lives on Avenida Almirante Reis and idealizes love inspired by the relationship of his parents. Out of compassion, he hands over his double mattress to Nicolau and his girlfriend, who returned to Lisbon. Manel is alone with the mattress that he exchanged with his friends and on his way back home when he invades a film set, with a team entirely composed by girls. One of them, Rita, a beautiful production intern who helps with the mattress. They talk. This encounter has a profound effect on Manel who goes home to reconsider his life sinking into a magical feeling of passion.
DUARTE COIMBRA
Duarte Coimbra was born in 1996, in Lisbon, and has a degree in Cinema Directing at the Lisbon Theatre and Film School (ESTC). While at school he worked as a production assistant for the film O Meu Pijama (2017) by Maria Inês Gonçalves – selected for IndieLisboa 17′, was the second assistant director in the film A Barriga de Mariana (2018) by Frederico Mesquita, and also directed music videos for the musicians Luís Severo and Primeira Dama. Amor, Avenidas Novas, produced within the school, is his first film as director.
POSTER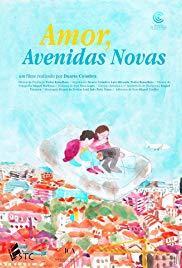 CONTACT
Filipa Henriques : pf@portugalfilm.org