Sisters of The Trees
Camila Menéndez / Lucas Peñafort
Argentine.  2019.  82 min
In the desert of Rajasthan (India) the birth of a girl is no longer a curse. The families that previously got rid of their daughters for not being able to pay the dowry, today celebrate their lives by planting 111 trees. It is the story of those women like Kala who managed to work outside the home and organize others. Or Bhavari that barely knows how to write and she is educating her daughter Nikita to follow her dreams of becoming a doctor.
CAMILA MENÉNDEZ
Camila Menéndez graduated as a director from ERCCyV. Since 2010 she has been a mountaineer in Mendoza and Buenos Aires, on TV channels, production companies, fiction and documentary series for TV, and feature films (La passion de Verónica Videla, 2010 – Madame Baterflai, 2012 – Los ojos llorosos, 2016.).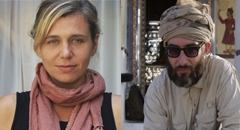 LUCAS PEÑAFORT
Lucas Peñafort obtained the Diploma in Creative Documentary Studies at the Barcelona Film Observatory. He graduated in Cinematography at the Universidad del Cine in Buenos Aires.
Films: La familia chechena 2015, Caja Cerrada 2009, Hamdan 2013, El gran canto del shamanismo 2015, El manifesto del shamanismo 2019.
POSTER
CONTACT
Lucas Peñafort : lpenyafort@gmail.com