Success is the Best Revenge
Jerzy Skolimowski
Poland.  1984.  90 min
Success Is the Best Revenge is Skolimowski's second film about martial law in Poland, in 1981. It is also his most personal film. Its protagonist, the famous Polish theatre director, Alex Rodak, bears many similarities to Skolimowski and in the roles of Rodak's wife and children he cast his own wife and sons, Michal and Jerzy. The film was shot in Skolimowski's London house, which was re-mortgaged in order to secure funds for Success.
The film begins with Alex Rodak receiving the Légion d'honneur in Paris, where he meets his wife and sons for the first time in two years. Their separation was caused by martial law in Poland: Rodak could not leave the country, while his family waited for him in London. The award allows Rodak to reunite with them and embark on a theatre project about martial law in Poland. However, the project turns into a series of problems and mishaps.
De-centred, incoherent and even incomprehensible at times, Success is nevertheless one of the most interesting films in Skolimowski's career, excellently revealing the director's obsessions and originality, such as his affinity to romanticism, expressionism and self-irony. In a sense, it is also a sequel to Identification Marks: None (1964), because Michal's peregrinations through London bear a striking similarity to Leszczyc's walks through an unknown town in Skolimowski's feature debut.
JERZY  SKOLIMOWSKI
POSTER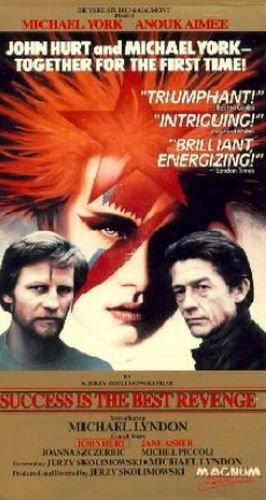 CONTACT
Imagineindia International Film Festival